Kevin Durant's Absence Showing Again Warriors Are Built to Defy Adversity
Erik Malinowski  (

Photo by:

Ezra Shaw/Getty Images)

OAKLAND, Calif. — Klay Thompson had 41 career blocks in 65 career playoff games for the
Golden State Warriors
coming into Wednesday night's Game 2 against the
Portland Trail Blazers
. Far from the gaudy numbers you'd see from a rim protector planted in the paint, sure. It's just that, chances are, you're not going to walk out of any Warriors game with the repeating image of a killer Thompson rejection cascading through your mind.
Not so during Golden State's 110-81 dismantling here to take a commanding 2-0 series lead. As the Warriors were capping off a super-stingy third quarter wherein the Blazers could only muster 12 points and the game was put beyond any competitive reach, the Warriors 2-guard pulled off a sequence of events that crossed the Thompson spectrum, from the shocking (a point-of-release block at the rim) to the commonplace (a high-arching, catch-and-shoot transition three).
"That did feel good," Thompson said of the block, "and hopefully I get to do it again."
From end to end, the swing from defense to offense barely required 10 seconds of game clock, but it was efficiently indicative of how the Warriors had answered the call of Kevin Durant's absence.
"We had some dry spots," said Stephen Curry, who only scored 19 points on 18 shots, "but we won the game with our defense tonight."
At surface level, it would seem surprising that losing Durant—he was ruled out a couple of hours before the jump with a strained left calf muscle—would serve as a precursor to the defensive clinic Golden State put on at Oracle Arena. He's their best rim protector, and his presence allows Draymond Green to slide up to center when the "Death Lineup" comes calling. His spindly arms can make any attempt at interior passing feel like a foolish endeavor.
But a funny thing happened while Durant was laid up with a sprained left knee for five-and-a-half weeks after the All-Star break: The Warriors maintained their defensive intensity. Even accounting for some squish in their strength of schedule, Golden State was noticeably better on defense for the 19 games Durant was out than for the games that preceded his injury.
That they didn't regress but got better in that area exemplifies how this team is built for the long haul.
Even without sterling performances from their long-range gunners, even without a true backup point guard in Shaun Livingston (out with a sprained finger), the Warriors had enough reinforcements to not only post another victory but also do so convincingly.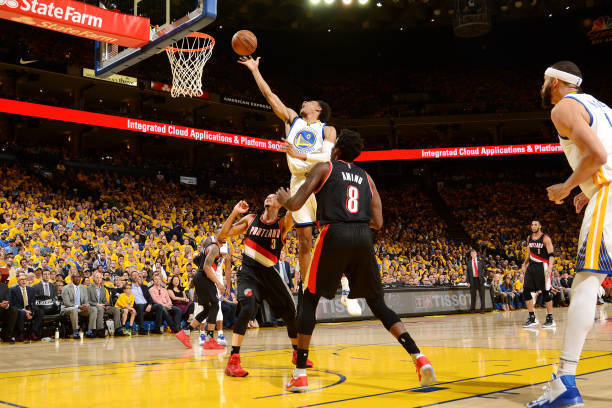 Noah Graham/Getty Images
Patrick McCaw stepped into Durant's starting role, and the rookie was everything Warriors coach Steve Kerr could've hoped for. As Portland made its move in the second quarter, McCaw drained a 27-footer to give his team a four-point lead.
After JaVale McGee's and-1 about 30 seconds later pushed the lead to seven, the Blazers never again drew that close, and the rout was on.
"The thing that I liked was the fact that he was unafraid," Kerr said of McCaw, who finished with nine points, five boards and no turnovers. "He's a rookie. He barely played in Game 1, and [when] KD comes back he's probably not going to play a whole lot. But the fact that he stayed prepared, stayed ready and really defended well, I thought his defense was excellent. We asked him to guard [Damian] Lillard and [CJ] McCollum a little bit, and he did a really nice job."
Indeed, after combining for 75 points in the more competitive Game 1 loss, the Blazers' high-octane backcourt could barely muster a wisp of a flame, scoring only 23 points on 34 shot attempts.
That's on McCaw. That's on Green, who had 12 boards and three blocks. And that's on Thompson, whose aforementioned swat on Lillard was this night's unofficial endpoint, the 15 minutes of game yet to be played a mere formality.
"We probably did a good job tonight getting the ball out of their hands more," Thompson said of shutting down Portland's potent duo. "We made adjustments from last game."
The Warriors have a four-time scoring champion out with a potentially nagging injury, yet they remain calm and adaptable.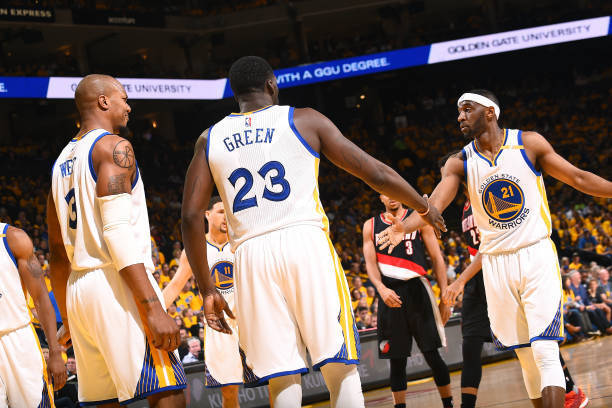 Noah Graham/Getty Images
It took them a few games, but they didn't let Durant's earlier absence sidetrack their season. They went back to basics on offense and defense. More pick-and-rolls at one end, better positional awareness on rebounds at the other. There are no switches to flip with this team because every department is already humming along.
McCaw most personified that. Slotted into starting his first career playoff game, he made a sizable impact from the get-go.
"Pat's one of those guys where he doesn't show that he's overly confident, because he'll never say anything," Green said, "but he's one of those guys that you don't have to instill confidence in. You feel like, Oh, it's the NBA. I'm here. I should be here, and I want to do what I do."
That confident, aggressive play was everything for McCaw—"I don't think Portland was expecting that coming from me," he said—and that's become sustenance for this Warriors team. Without Durant or Livingston or Matt Barnes (ankle), Golden State never seemed like it was shorthanded. Six different Warriors recorded at least one blocked shot.
Even the 6'7″ McCaw got in on that party, swatting (who else?) Lillard in the middle of that third-quarter smackdown.